Márk Rózsavölgyi
Márk Rózsavölgyi (1789-1848)
Márk Rózsavölgyi was born in Balassagyarmat as Marcus Rosenthal in 1789, died in Pest, on 23. January 1848. Composer, violinist, so-called "Father of  Czardas Dance".

Below you can read the article of Zoltán Réti, which we took from the website of the local  Art School Márk Rózsavölgyi. Hereby, we thank for the permission to Mr. Csaba Ember, director of the school.
"I was born in Balassagyarmat (in Nógrád County) in 1789 as a child of honest, but poor parents..."  Thus begins the curriculum vitae of Márk Rózsavölgyi,  last important representative of the classic "Verbunkos" style music (an 18th-century Hungarian dance and music genre, its name is derived from the German word 'Werbung', which refers "to enroll in the army") , "Father of Czardas", dreamer of the beautiful tunes of the First Hungarian Ballroom Dance, one of the famoust composer of the early 19th century in Hungary.
He began studying the violin at the age of eight from a local schoolmaster, he leaves home at age of twelve.  After a time in Nyitra (now Nitra, Slovakia) and Pozsony (now Bratislava) he went to Prague, where he studied both music and calligraphy. In 1808 he moved to Pest, first working as a bookkeeper for a wholesaler, but soon, his musical talent, virtuoso violin skills had been discoverd and he was invited to be violinist and later musical director of the Magyar Theater. In 1812 this company performed the play "Angyal Bandi" with his music.
In 1813 he starts a grand concert tour to Russia, which was that time the 'promised land' of the performers of the 19th century.  "I was starting to go, but when I arrived to Baka, Bács County, and gave two concerts with huge success, I fell in love with a very pretty girl from there and I married her." - as we can read in his autobiography.  The name of this "pretty girl" was Henriette Szlovák. She reached very high age, she died at age of 104 years in Ószivác (today Stari Sivac, Serbia). The marriage was concluded in 1814, and Baja was their home for several years. By this time, his fame spread more and more in the country. Thanks to patrons and supporters of  hungarian music, he give concerts with great success in Pécs, Székesfehérvár, Veszprém, Balatonfüred where the audience could get to know his compositions and virtuoso violin skills. He also get stronger financially and lived happily and contentedly in Baja.  But keep reading his autobiography:
"To date a girl and two boys were born out of this marriage.  I was living with my beloved wife happily and contentedly in Baja less, than six years ago, when  in the last days of April 1819 in a night I lost all of my property in a conflagration. 375 houses burned down between 11 PM and 1 AM" . Concert tours were started again and by the result of the success he was signed to the theatre of Temesvár (now Timişoara, Romania), where he spent two years. He moved back to Baja in 1821 where he gave lectures of music and calligraphy and became musical director of the town's orchestra. 
His son, Gyula was born in 1822, who later founded the publishing firm Rózsavölgyi and his Partner in 1850. This firm did a great service to the musical life in Hungary publishing and distributing the compositions of Erkel, Liszt, Mosonyi, Volkmann, and later Bartók, Kodály, Lajtha, Dohnányi, Weiner and countless other composers in the country and in all of the world.  Gyula led the firm only eleven years because of his early death.  The other son, Lipót  was a physician in Ószivác (Stari Sivac), and died in 1904 at the age of 86. The daughter, Babetta died at a very early age. There's a letter to his relatives living in Balassagyarmat dated 21. October 1821, which proves that the family lived again in Baja in 1821.
There is an assumption that the father of Márk Rózsavölgyi, Mordchele Rosenthal was the leader of the klezmorim (jewish musicians) of  Bonyhád but there's no written documents about this. There is also a hypothesis that the Rosenthal family might have been migrated to Balassagyarmat from the territory of the Hungarian Great Plain.
In 1824 Rózsavölgyi contacted with the Musical Society of Veszprém County. This society was formed to gather the values of the hungarian national music and publish them in a series with the title of  " Hungarian Songs from Veszprém County".  The Hungarian Songs, which were published in fifteen booklets, are not the hungarian songs as we know them today. Around 1800, all the compositions which had been sung were called "Hungarian Aria", and all instrumental dance pieces "Hungarian Songs". The series was edited by the excellent musician, Ignác Ruzitska.  (Not to be confused with György Ruzitska, director of the Conservatory of Kolozsvár - Cluj, Romania -  and with József Ruzitska, composer of the opera "Runaway of Béla".  In the booklet, which contained 136 hungarian dances, there were also 18 compositions of Rózsavölgyi.  Perhaps this explains, why Rózsavölgyi is believed to be born in Veszprém. The  Great Lexicon of Pallas (the first complete Hungarian Encyclopedia) also states that he was born in  Veszprém.
The " Hungarian Songs from Veszprém County" is very important for the history of the hungarian music.  Veszprém County was particularly suitable for setting up such large-scale movement.  Hungarian music and contemporary international music art as well were popular in the county. The  provincial lords had enough money for support and above all, they had spiritual needs for capture hungarian music.
Relationship of Rózsavölgyi and the Musical Society of Veszprém County shows that an independent civil musician-type was formed in Hungary. Rózsavölgyi was one of the fellow workers of "Veszprém County Songs" who got by on the income from their concerts nd compositions without being employed, without having aristocratic patrons.
Rózsavölgyi was introduced to Musical Society of Veszprém County on 4th June 1824. His name was so far Rosenthal. In the end of the concert and the feast the society's notary, Gábor Sebestyén, gave him the artistic name Rózsavölgyi. In the records he was already mentioned as Rózsavölgyi. This name change became  the source of many joy but not a few problems in his life.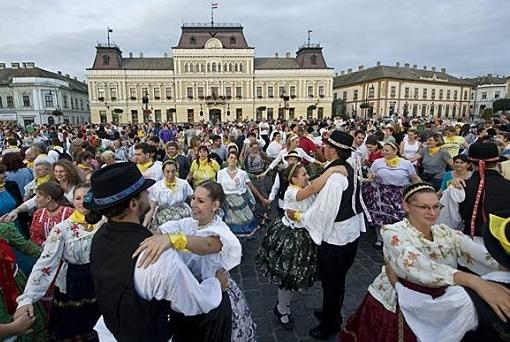 The City of Baja has issued a very nice certificate of his achievements in 1826, which proves that he was highly respected. Still, national reputation, his ambitions for greater artistic level drived him to move to Pest. He must have recieved encouragement from Pest as he was  patronized immediately by the local press. Growing demand for national culture in Pest was attracted the masters of literature, poetry, theatricals, fine arts, music and dance, like a magnetic force. Rózsavölgyi suggested this attraction and moves to Pest with his whole family. He is greeted by the "Honművész", journal of  literature and arts  on 20. June 1833 like this: "Mr. Márk Rózsavölgyi, the 'Hungarian Arion' and ex Orpheus of Bács, after many years has left his residence in Bács County, and moved to Pest.  This entrancing musical talent and composer of majestic hungarian songs, has introduced himself with his charming violin to the audience of Pest almost 25 years ago. We hope that as he settle in Pest he will surprise his listeners with new compositions".
At this time Ignác Ruzitska was dead, and all his predecessors had been  passed away: Lavotta (1820), Csermák (1822), Bihari (1827). Masters of the classic verbunkos-music has fallen out of line, an era has ended.  His most productive years followed, he became the most famous, most popular violin virtuoso and composer of the country for a decade.
Knowing contemporary press we may think that was pretty easy to settle in Pest.  For he was a musical symbol of national independence endeavors in the view of his  supporters.  But he was recognized by the office and the bureaucratic machinery not as a great hungarian musician but a carpet-bagger stranger.  He was forbidden to use the name 'Rózsavölgyi' and on 30. November 1833  he is banned form the city of Pest. Because " he is moving from one place to another getting by on with playing the violin, not having any property on his own neither any professions, that's why he must be nuisance to the city;... so he should be expulsed immediately."  Nevertheless, he lived until his death in Pest and keep on used the name 'Rózsavölgyi'. He was fed up with indignity, he didn't send in newer petitions.  How could he did this? It can be explained, that he had more and more supporters in the city council, who didn't bother with this issue. In the end of his life he recieved all the permissions for both to settle and to change his name , but that time he didn't care.
Despite the intrigue, the public sees the invigorator of the hungarian music and dance. He is  at full power, its not a coincidence that the style improvement (from Verbunkos to Czardas) was related to no other than he.  National consciousness was fighting for the creation of hungarian theater, many people wanted to divert public attention toward the hungarian dance.  It become a national issue to bring hungarian dance into the ballrooms.  "Strauss and Lanner command our legs..." - writes a reporter to a newspaper in Pozsony (now: Bratislava) - "and we are only puppets governed by fiddle-stick and whim."
Rózsavölgyi travels around the country. He meets Kornél Ábrányi in 1834 in Nagyvárad (today Oradea, Romania), he plays for the members of the Parliament in Pozsony (Bratislava) in 1835, in the meantime he visits Vienna, where he performs in the Court Opera two times. "Slow Czardas" which was published 1835 has a great significance. This is the first time that Czardas as a musical genre is first published in print.  Fresh parts of the verbunkos are widen later they become independent.  According to Bence Szabolcsi:
"Real historical importance of Rózsavölgyi is in his form-instinct and in his forming art. With this artistic skill, dance composer  Rózsavölgyi will be able to lay a bridge to hungarian dance music of the fourties to the art-music of the sixties".
Ervin Major writes these words to the Music Lexicon:
"...his wide cultivated melodic lines, through their fine and tasteful harmonisation is far above the average of the hungarian style of the thirties and fourties of 19th century. "
In 1835 Adolf Frankenburg write about his appearance in Eger in the journal  "Honművész", than we can read about that the newest compositions of Rózsavölgyi is dedicated to the landgrave of Nógrád County and to his wife. In 1836, he sends his composition for the general assembly of the county with the title of "Memorial Sounds in Hungarian National Songs" to the members and officials of the noble, well-regarded County of Nógrád with deep respect. He never forgets the county of Nógrád even in the midst of his national success. Theres a  finely formed string quartet of him with the title "Memory of Nógrád"  But there is another composition called "Memory to Nógrád".  Some of his later works processed to string quartet require serious preparedness of the first violinist. In 1836 he went to Nagyvárad (Oradea, Romania) again, then to Kolozsvár (Cluj, Romania), and finally to Debrecen. Here he gave many concerts, inter alia, he conducted the  "orchestra of the cath. church", on the birthday of Emperor Ferdinand V., 19 April.  In November he was in Kassa (today Košice, Slovakia), and in January 1837, he appears on the concert of the language-cultivator society working within the Lutheran Collegium of Eperjes (today Prešov,  Slovakia). He met here Imre Vahot who (together with Sándor Petőfi) later became on of his  protectors.
Hungarian Theatre of Pest was opened at 22. August 1837. His composition "National Sounds of Joy for the opening of the hungarian theater of Pest" is presented. There was also a  dance in the program with his music . He became the first concertmaster of the orchestra. Not for a very long time, because in January 1838, Ferenc Erkel overtook the leading of the orchestra and 11 February he gave a notice to Rózsavölgyinek. We don't kow exactlythe reason, the young (28-years-old), strong leader and the almost 50-years-old violinist Could't work together.  Although Erkel's process was disagreed by many (eg. Ferenc Bónis), Rózsavölgyi was starting concert tours again. It seems , that he left the orchestra without anger, because later he wrote a composition (Let's hear!) to honor of Erkel, which was thanked by the addressee in the journal 'Pest Fashion Magazine'. - He had one more encounter with the Hungarian Theatre of Pest. In 1839, his only opera, "Treasure Hunters of Visegrád" was  given its first performance with total failure. It has many reasons, one of them was the fairly primitive nature of the text.  There is no doubt that the opera is not among his  successful work of art, although its two hungarian-style parts prepared the path for Erkel. In 1839 he has a concert in Pápa. Dr. Cseresznyés saves his eye, but he did't regain his perfect vision anymore. The other event in Pápa, that the was elected honorary member of the Casino of Pápa. In the meantime, in the ballroom-news there are more and more passionate debate in the press about Hungarian Dance... Struggle for hungarian ballroom dancing was one of the manifestations of the political endeavors of hungarian society toward independence.  Resistence against hungarian dancing was broken by the so-called  "regulated hungarian", which enabled the spreading of the Czardas. (Olga Szentpál). The regulated hungarian dance which turned the scales at once, was the "First Hungarian Ballroom Dance",  made by the choreography of Lajos Szőllősi Szabó and the music by Márk  Rózsavölgyi. On 8. January 1842. there was a report in the newspapers that no dance had   such a success before, than the "First Hungarian Ballroom Dance" had, which was presented in the Parliament Building . Without his music it would not have been meet with such a success.
"The purposeful tonality structure, identical opening and finale made the composition to a closed unit and with it this cycle is initiated being the most mature achievement of Rózsavölgyi" (Szabolcsi).
No other musician could get greater social appreciation until this time in Hungary, who emerged from lower class.  In 1844 the most famous poet of Hungary, Sándor Petőfi wrote an article defending Rózsavölgyi against an offense. The article was published in the Pest Fashion Magazine, edited by Imre Vahot. Vahot wrote in his memoirs that  the favorite composer of Petőfi was their "Dear Uncle Marcus".
It's astonishing that while the number of the compositions of Rózsavölgyi is growing and his works are popular both in the country and abroad, financial situation of the aging composer becomes troublesome.  On 1st December 1844 Imre Vahot published his biography with the engraving of Miklós Barabás. In the end of the article Vahot draws attention of the public to the tragic financial situation of Rózsavölgyi with shocking words. His farewell concert was held in the National Theatre on 25. February 1845.  His health declined, but he had to continue holding concerts. We can read, that how gently he was received  in Eger by the seminarists. More and more articles were published about his activity as a composer, too.  His tunes were used by Franz Liszt in several rhapsodies (I., II., VI., XII., XIII.). He left Pest again in October 1846. He got sick in Baja and became bedridden. During his illness just a few of his admirer supported him.  On 23. January 1848. his heart stopped beating.  Almost every journal bids farewell to the old musician. 'Életképek', the leading Hungarian literary journal, edited by Mór Jókai wrote:
"Rózsavölgyi is dead! His sweet melancholic spirit, his songs of eternal beauty will live on in their heartfelt sounds. The homeland did not gave him anything for these beautiful songs; now he will rest at least, as a reward of his labour."
On 20. February 1848. a poem of Sándor Petőfi was published in the journal 'Életképek' with the title "For the death of Rózsavölgyi". This is how the great poet said farewell to his old friend, Márk Rózsavölgyi.